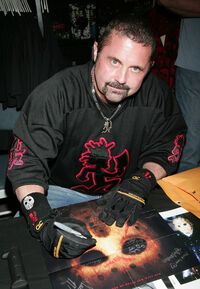 Kane Warren Hodder (born April 8, 1955)[1] is an American actor and stuntman. Standing 6' 3½" ( 192 cm),[2] he is best known for his portrayal of Jason in four films from the Friday the 13th film series (parts VII through X).
References
Edit
↑ According to the State of California. California Birth Index, 1905-1995. Center for Health Statistics, California Department of Health Services, Sacramento, California. At Ancestry.com
Ad blocker interference detected!
Wikia is a free-to-use site that makes money from advertising. We have a modified experience for viewers using ad blockers

Wikia is not accessible if you've made further modifications. Remove the custom ad blocker rule(s) and the page will load as expected.