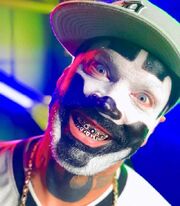 Joseph William "Joey" Utsler is an American rapper, record producer, DJ, professional wrestler and actor. Utsler is known as Shaggy 2 Dope of the hip hop group Insane Clown Posse. He is the co-founder of the record label Psychopathic Records, with fellow Insane Clown Posse rapper Joseph Bruce (a.k.a. Violent J) and their former manager, Alex Abbiss. Along with Bruce, Utsler is the co-founder of the professional wrestling promotion Juggalo Championship Wrestling, where he currently acts as color commentator.
Ad blocker interference detected!
Wikia is a free-to-use site that makes money from advertising. We have a modified experience for viewers using ad blockers

Wikia is not accessible if you've made further modifications. Remove the custom ad blocker rule(s) and the page will load as expected.